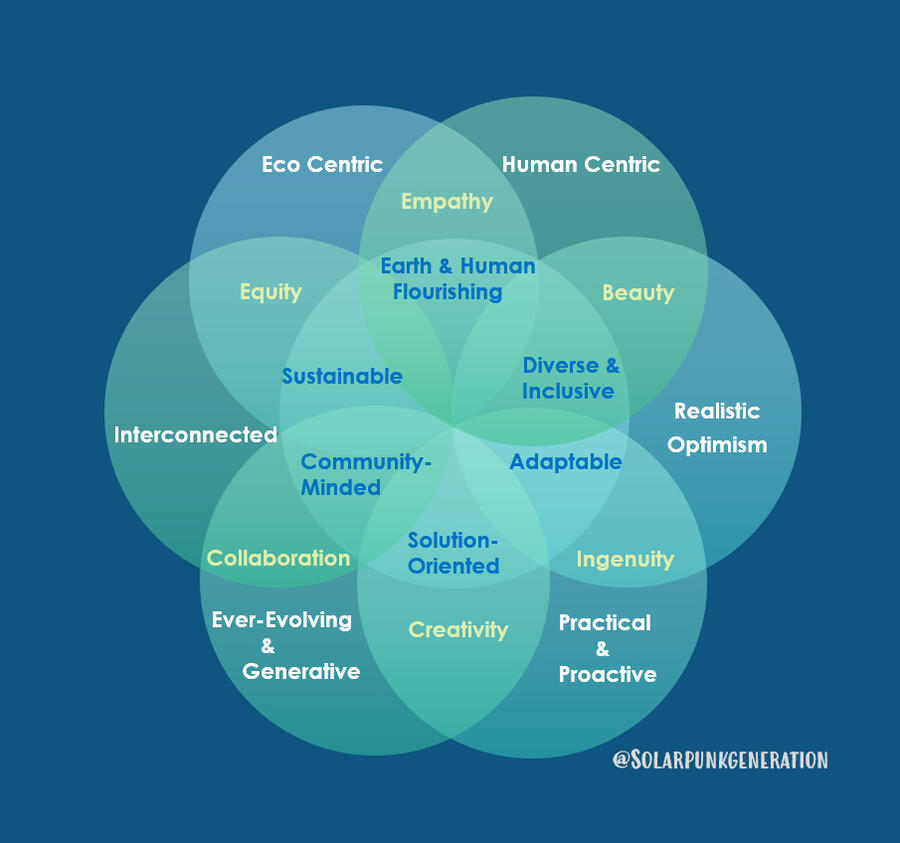 ---
Solarpunk Generation
We are the parents, kids, aunts, sisters, grandparents, uncles, and brothers working for a regenerative, healthy, just, and beautiful world. We are building a #Solarpunk future today! Join us!
Solarpunk Generation is launching a series of projects to accelerate innovation, regeneration, and collective intelligence. These projects will lead to local and global networks of eco-hubs and common pools of resources to support the healing of our planet and radically address eco-anxiety in children, youth, families, and diverse communities. The graphic depicts some of the foundational elements and values guiding these projects. More will be revealed as other projects are launched.
The first project launching this year is a different kind of podcast. A bridge between generations that reflects diverse voices sharing life-affirming values, visions, and actions for a more sustainable, regenerative future. It will feature inspiring families, from children to grandparents and everyone in between (Gen Alpha, Gen Z, Millenials, etc.), actively working to build this future today.
The podcast is the seed for other upcoming projects. Many guests will be encouraged to contribute their wisdom, brilliance, or experience to different phases of the larger project and sub-projects (e.g., area expert guests/mentors for Solarpunk Camp, workshops, pilots, live events, etc.). There will be many opportunities to support, connect, and amplify their efforts and dedication.
Solarpunk Generation welcomes stewards, allies, co-creators, and collaborators. If you or your organization/DAO/project would like to collaborate, support, help amplify the mission, or donate anything (skills, ideas, funds, smiles, good vibes, or feedback), please reach out![email protected]Stay tuned for more!